Body Lights
Result Pages: 1 Displaying 1 to 13 (of 13 products)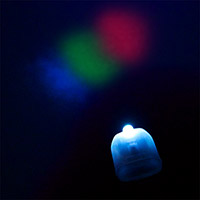 3 Color Rainbow Finger Light
-
$1.79
A rainbow of colors right on your finger tip. Each LED light flashes a mix of colors.

---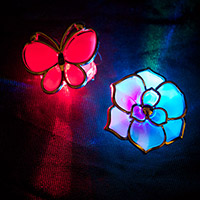 Color Changing Hair Clip
-
$2.99
A color changing hair clip that will add some class and color to your outfit.

---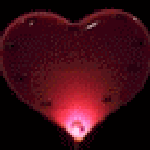 Deluxe Red Heart Body Light
-
$3.49
This deluxe heart has an incredible 10 LEDs that move from the bottom and meet together on top to symbolize your true love.

---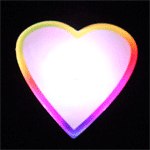 Flashing Heart Pin
-
$2.95
Show you have heart with this super bright flashing heart pin.

---

Flashing Star Pin
-
$2.95
Be a super star with this super bright, 7 mode flashing star pin.

---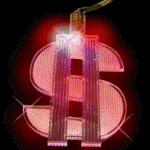 Giant Dollar Sign LED Necklace
-
$3.95
Show off your major bling with this unmissable gigantic dollar sign hanging around your neck. Huge 5" size!

---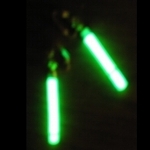 Glow Dangler Earrings (Clip-On)
-
$2.29
This is a pair of 1 1/2" mini glowsticks attached to a clip-on earring! Dangle these from your ears - no piercing required! Glowsticks are replaceable too.

---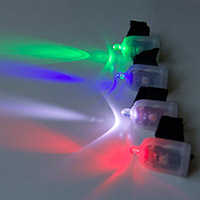 Individual Deluxe 3-Mode LED Finger Light
-
$1.99
These single finger lights have 3 modes! Select from steady-on, slow flash, or fast flash modes! Creates either a ribbon or streaking trail of light in motion!

---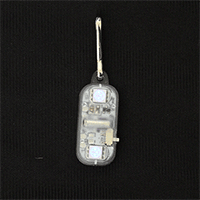 LED Zipper Pull Clip On Light
-
$2.99
Attach this LED zipper pull to your jacket and watch it flash to your every move!

---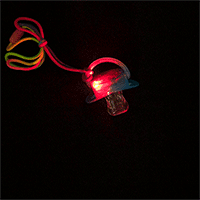 Light Up Pacifier Necklace
-
$2.95
The Red, Blue and Green flashing LED's in the pacifier necklace light up the room.

---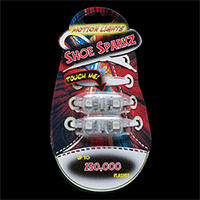 Shoe Sparkz LED Lights
-
$4.99
Move to the groove and watch these LED Shoe Sparkz light up the dance floor! Available in Red, Blue, Green or White.

---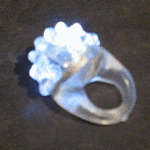 Super Bright Jelly Ring
-
$3.95
With 3 incredibly bright white LEDs these Super Bright Jelly Rings pack quite the light-up punch.

---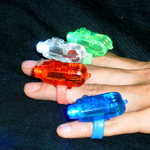 Ultra LED Finger Lights (4 pack)
-
$7.50
This pack of 4 separate ultra-bright LED microlights slip easily on your fingers.

---
Result Pages: 1 Displaying 1 to 13 (of 13 products)
Get the News
Get our newsletter